Kitten's first weeks
Since we are a family cattery and we have our cats at home, our puppies live with the family and the rest of our cats so they socialize since they start to walk. & nbsp;
Collecting the kitten
We are not in favour of sending our kittens by transport company, however specialized it may be, we prefer and believe that it is much less stressful for the puppy that you come to collect it in person or, failing that, negotiate a personalized delivery.
Minimum age to adopt a Bengal cat
Our kittens are delivered at least 3 months after birth
Reserve Bengali cat kittens
Can I reserve cats from a litter?
You can decide what bengali you like more of those who are available. You will be welcome if you wish to come and see them in person. The moment you decide which puppy you like the most, a payment and sign to confirm the reservation will be made, which can be done directly if you come to see them or by bank transfer.
We only accept payment and signal for kittens born and available.
From this moment you will be informed through photographs and videos until the moment you can collect it.
About ten days before the delivery the rest of the agreed amount will be paid in case the payment is by bank transfer; if you come to collect it in person you can pay this amount at that time.
Our kittens are always delivered vaccinated and wormed with their health card and passport if the new owner resides outside of Spain.
Can you enter your name on the waiting list of a specific litter?
In the case you wish to wait to have a bengali of a particular litter, contact us and give us your data (name, address, phone and email) to write you on the waiting list of the litter in particular.
You will be notified when the litter is born and the kittens are available.
What documentation accompanies the bengali kitten?
Conditions and health guarantee
Instructions for vaccination and feeding
Certificates of genetic tests of PKDeF and Prab of the parents
(for breeders)
Contract
A Purchase Agreement will be signed by both parties, one sheet at a time in the moment of booking.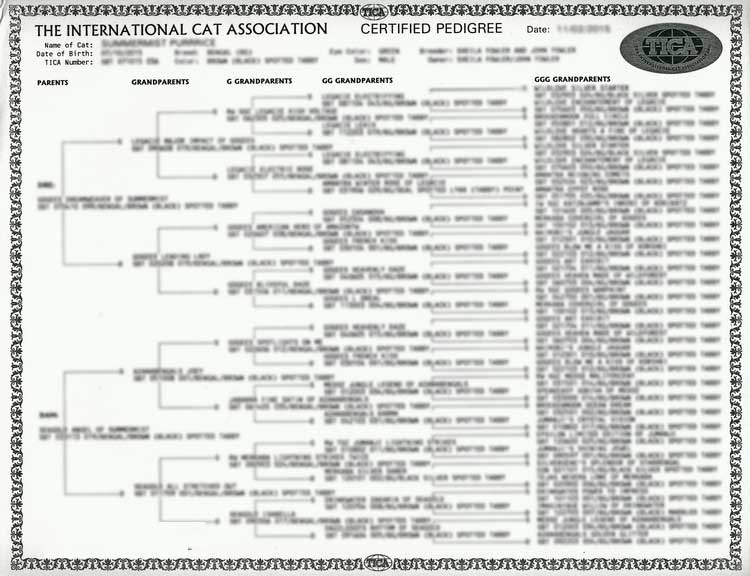 Pedigree
Our kittens always have their pedigree that will be sent to the owner once we receive it from the Feline Association.
Note.- The kittens sold as pets (not for breeding) will be delivered neutered